Description:

Class schedule is now available! The Region 1 Education Department is excited to bring you Martini for this year's fall event!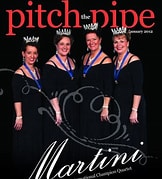 Sweet Adelines 2012 International Quartet Champions, Martini, is an international-voices, across-the-border phenomenon! With Shannon Harris (bass) and Corinna Garriock (tenor) hailing from Canada, and Michelle Little (Lead) and DeAnne Haugen (baritone) from the United States, Martini really shook up the Sweet Adelines stage. The group first got together in 2007 with a different tenor and lead, and placed 8th at the 2008 International competition in Honolulu. Michelle joined the group in early 2010, and Martini placed 5th in Seattle after just a few months of rehearsal.
Then in January 2011, Corinna joined the group, and 6 rehearsals later….created magic in Houston, being crowned Queens!
Corinna, a Certified Music Judge, Michelle, DeAnne, and Shannon will bring their extensive knowledge to New England, and they are looking forward to sharing all their experience with us.
We know you are going to love getting your…